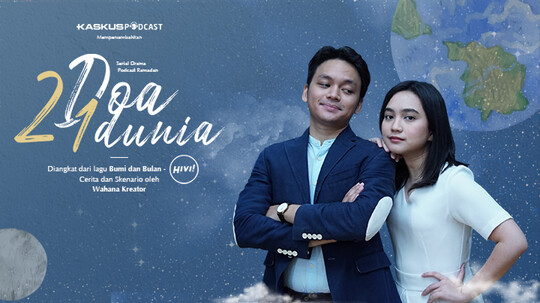 2Doa1Dunia
KASKUS Podcast mempersembahkan sebuah drama podcast Ramadhan: 2Doa1Dunia! Diangkat dari lagu Bumi dan Bulan karya HIVI! Cerita dan skenario ditulis oleh tim Wahana Kreator. Diperankan oleh Rachel Amanda dan Calvin Jeremy, tayang mulai 24 April 2020.

HIVI! - Bumi dan Bulan
11,229 • Dipublish 24 April 2020
HIVI! mempersembahkan single ke 4 dari album ketiga mereka, "Bumi dan Bulan".
Bantu sebarkan jika kamu menyukai, terkesan atau terinspirasi dengan video klip ini.
BEHIND THE SONG
Song & Lyric: Nadhia Aleida, Ezra Mandira, Febrian Nindyo
Executive Producer: HIVI!
Music Producer: Tohpati
Co-Producer: Ezra Mandira
Vocal Director: Irvnat
All vocals performed by: Ilham Aditama, Nadhia Aleida
All backing vocals performed by : Febrian Nindyo, Ezra Mandira
Guitar: Ezra Mandira
Drum: Bowie
Bass: Fajar Adi Nugroho
Flute: Ricad Hutapea
Flugelhorn: Ujung Sitorus
Strings Section
Violin 1: Fafan Isfandiar, Prima Muchlisin, Eko Balung
Violin 2: Suta Suma Pangekshi, Wahyu Surbono
Viola: Yulianto Endarmawan, Dwi Ari Ramlan
Cello: Dani Kurnia Ramadhan, Robby Subarja
All tracks mixed by: Eko Sulistyo
All tracks mastered by: Benito Siahaan
...
Team Crew and Management HIVI! ;
Dennis Tumiwa (Videographer),
Imam Syafei Candra (Road Manager),
Maulana Surya (Social Media Officer),
Maharani Wandita (Project Leader)
...
Like, comment, subscribe, and watch our other videos!
______________________
HIVI!
Subscribe our youtube channel at
http://smarturl.it/SubscribeHiVi
HIVI!, Indonesian pop music group established in 2009, consists of:
Ezra Mandira (Ezra)
http://www.instagram.com/ezramandira
Febrian Nindyo (Febrian)
http://www.instagram.com/febriannindyop
Ilham Aditama (Ilham)
http://www.instagram.com/iaditama
Nadhia Aleida (Neida)
http://www.instagram.com/neida_aleida
Follow us on Instagram, Facebook Fan Page, & Twitter: @sayhivi
HIVI! Management
info@
sayhivi.id
#HIVI
#BumidanBulan
#Ceritera